16 September 2020
Guangdong Qianrun presents two letterpress and sticker printers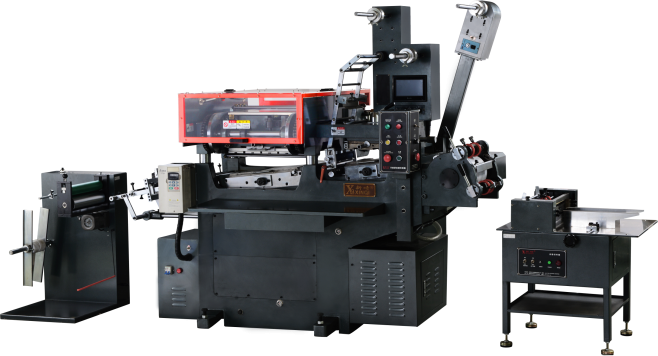 Click on image to download high resolution version
Guangdong Qianrun Machinery sci & tech Co. Ltd (stand A14) is showcasing two letterpress and sticker printing machines at the forthcoming Labelexpo South China in Shenzhen. They are:
Product 1: RS 340-8C+1F of RS 340 INCH series
The RS340 INCH High-speed and Full Rotary Letterpress Printing Machine has been developed using the independent research and development of Guangdong Qianrun Machinery. This is a servo-driven full rotary letterpress printing machine and intelligent servo intermittent pressing rotary die cutting system (without changing magnetic roller), which can save the cost of changing magnetic rollers, thereby improving efficiency. It maximises the combination of intermittent and full rotary die cutting. It can be used in various industries to achieve multi-functional label printing.
Product 2: XQ-L210C - Sticker Label Printing Machine (CNC)
This equipment is easy to operate, high-speed and flexible, with precise registration. It has an advanced ink system, with colour consistency and  automatic control system, which automatically stops when there is no paper and when sheet counting reaches the set value. Other features are CNC computer servo and a paper drawing system, which can be used for secondary printing, multiple printing, reverse printing, etc.
It adopts oblique back design, printing and die cutting. In mechanical action, the contact is gradual, so that the pressure can be averaged. Whether printing large area background colour or small words, it can be clear and flawless. Die cutting can adjust the left and right, front and back, rotation angle, and a built-in centralized ink supply system ensures high-speed operation, low noise and no wear.