27 August 2020
Registration opens for Shenzhen's inaugural Labelexpo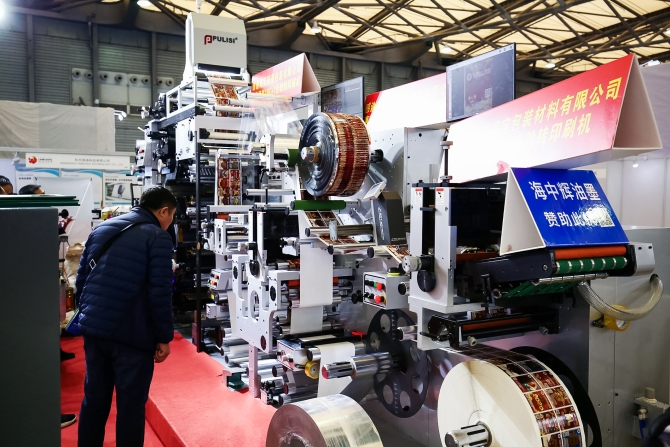 Click on image to download high resolution version
Tarsus Group, the organizers of Labelexpo Global Series of international trade shows, has today opened visitor registration for its very first Labelexpo South China in Shenzhen. This takes place between 8-10 December 2020 at the world's largest purpose-built event space, Shenzhen World Exhibition & Convention Center.
Labelexpo South China 2020 will occupy 10,000 sqm of floor space at the venue, and builds on the major success of Labelexpo Asia 2019 in Shanghai - which recorded its largest edition to date and an 18 percent increase in visitors. The inaugural show offers a platform for 150 participating exhibitors, who will be showcasing the latest label and package printing machinery, smart technology, materials and components. In addition, the show will focus on the fast-growing areas of the market in a number of exclusive feature areas on the showfloor.
This includes Brand Print South China 2020, which is aimed at printers of all types of signage, promotional materials and collateral for brands, as a one-stop shop for all their large format and digital printing needs. Visitors will be able to source specialized machinery, software and materials from leading manufacturers to grow their business. The addition of Brand Print means that Labelexpo South China 2020 presents a unique opportunity for printers to explore the synergies between different parts of the whole print industry from a single location.
Kevin Liu, event director for Labelexpo South China 2020, said: "We are tremendously excited to be bringing a Labelexpo show to Shenzhen for the very first time. The city is a major printing and technology hub, and strategically extremely important for Tarsus, while Shenzhen World is one of the most inspiring venues in the world to host a trade event."
Chinese exhibitors include: Fangda Packaging Co., HanGlobal, Pulisi, Runtianzhi, Shenzhen Caisheng Printing Machinery Co., Reborn, Soonmax, and Hongsheng. Overseas exhibitors include: 3M China, Ritrama, BST Eltromat and Epson/Konica Minolta.
Liu added: "The timing of Labelexpo South China 2020 in December is extremely significant; the show will be a vital catalyst for the entire label, packaging and commercial print industry in the region as we move into the post coronavirus/COVID-19 recovery phase. For this reason, I strongly encourage printers to come and connect with manufacturers and suppliers at this inaugural show, as their investment will be essential in helping our dynamic industry recover."
Show visitors will also be able to attend an educational program, covering the industry's hottest topics.
Entry is free to the show. Visitors should pre-register online to receive their full exhibition pass and guaranteed fast-track entry. Full details on the Labelexpo South China website. Registered WeChat users can also access details about the show on the dedicated show app.
About Shenzhen
Shenzhen is among the most economically advanced cities in China and its most important trade show hub;
 
Located along the booming Pearl River Delta Economic Zone, in 2018 its total GDP hit a record-breaking level of 2.4 tn RMB, ranking fifth in Asia and third in China after Beijing and Shanghai;
 
Shenzhen's export value has topped the list of cities in mainland China;
 
According to 2019 statistics, there are 1900 printing enterprises in Shenzhen, with a total output value of 50 bn RMB and an external processing value of $1.3 bn. Among them, over 170 enterprises have an annual output value of more than 50 m RMB;
 
Shenzhen World Exhibition & Convention Center opened in late 2019 and is set to become the world's largest purpose-built event space when fully completed, offering 500,000 sqm of indoor floor space;
 
China is the second largest manufacturer of packaging in the world, and flexible packaging is the country's fastest growing package printing sector. It is estimated that China's flexible packaging market will reach a value of 111.39 bn RMB (15.7 bn USD) by 2022.