16 September 2020
SEI to showcase the LABELMASTER roll to roll laser printer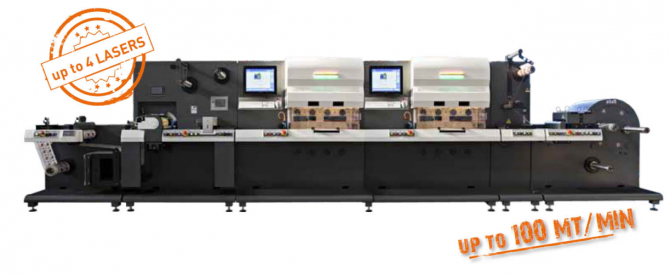 Click on image to download high resolution version
SEI S.p.A (stand D31) is showcasing the LABELMASTER professional roll to roll laser machine for die cutting and digital finishing (pictured) as Labelexpo South China.
The LABELMASTER can meet the needs of converters and manufacturers in various fields, including industry, wine, food and beverage, beauty, textiles, soft packaging, advertising, processing, anti-counterfeiting, and RFID. Due to the versatility and high performance of lasers, it can process different types of labels and special finishes on different materials, such as paper, PET, PP / BOPP.
The LABELMASTER adopts a modular design, with a laser system that can be configured "on site" according to the business needs of customers. Its modules are independent of each other and can be freely placed and integrated at any time. In addition, in an increasingly competitive market, the QR code / barcode reading system enables immediate change of work, ensuring efficient productivity and complete elimination of setup time.
The LABELMASTER replaces the traditional mechanical die-cutter, and can realize the full digital workflow from beginning to the end - from the "PDF" file to the delivery, making it the most effective solution of the digital business model, from the coil to the label, from the coil to the sticker, from the coil to the packaging. LABELMASTER is a class 1 safety laser product, which complies with IEC en 60825 / 1, and supports industry 4.0.