21 December 2020
Success for Labelexpo's Shenzhen launch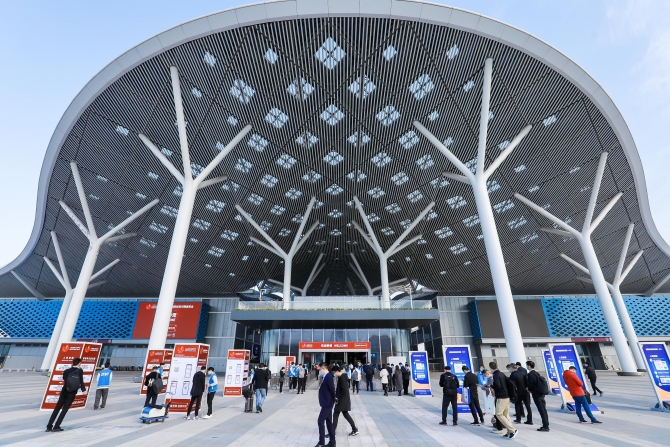 Click on image to download high resolution version
Tarsus Group, the organizers of Labelexpo Global Series of international trade shows, is pleased to report a successful inaugural edition of Labelexpo South China in Shenzhen, with a total of 8,778 visitors passing through its doors between 8 - 10 December 2020.
Taking place at the world's largest purpose-built event space, Shenzhen World Exhibition & Convention Center, and occupying 11,000 sqm of floor space, the show offered a platform for 130 exhibitors showcasing the latest label and package printing machinery, smart technology, materials and components. Chinese companies included: Fangda Packaging Co., HanGlobal, Shenzhen Caisheng Printing Machinery Co., Soonmax, plus Hongsheng, Pulisi, Reborn, Runtianzhi and Shanghai Haixi, who also confirmed sales. Overseas exhibitors included: 3M China, BST Eltromat, and Epson/Konica Minolta Ritrama, with confirmed sales made by companies including HP and Luster. 

Technology launches in the region included: Durst Tau 330RSC, HP's new generation of Indigo 6K and Indigo 25K, and Konica Minolta's MK 360R cutting machine, while the Luster LabelMan-2020 T saw its world debut.

Other technology on show included: Shenzhen Huada Huahui Machinery's DJKDM full rotary offset printer,  Shenzhen Reborn Precision Machinery's die cutting and hot stamping machinery, Guangzhou Pulisi Technology's inspection machines PAIM-350S / PAIM-350PRS / AIMI-350C, Guangdong Qianrun Machinery's letterpress and sticker printing machines RS340 INCH / XQ-L210C, and Shenzhen Caisheng Printing Machinery's letter press printers CS-300 / CS-220. 

Kevin Liu, event director for Labelexpo South China 2020, said: "We are delighted with the success of our first Labelexpo show in Shenzhen, the region's key printing and technology hub. With a fantastic footfall of almost eight thousand eight hundred visitors, a rebook rate of thirty five per cent, and extremely positive feedback from exhibitors and event partners alike, the show is resounding proof that it's possible to launch and run a successful, high-quality event safely in these challenging times." 

The main show feature, the Print Automation 4.0 Hub proved especially popular, with live demonstrations of the entire label production process taking place over days one and two. At this "smart factory", Beijing Value Technology and Luster displayed the SmartFAB printing factory's whole management process, while Hybrid Software demonstrated rapid electronic proofing. Rhyguan showcased its PLUS-330 digital converting and finishing machine, while Luster also displayed the LabelMaster-F series offline label quality inspection system. 

Show visitors also attended sold-out Label Academy hosted educational programs tackling the industry's hottest topics. The Shrink Sleeve Technology workshop included design and origination requirements; shrinkable films; the different printing processes, technologies and specialized applications; and sleeve performance, quality and troubleshooting. The speaker line-up included: Simon Wang, sales and service manager - Greater China, Hybrid Software; Jerry Xu, sales director – Asia, Klöckner Pentaplast; Will Jiang, technology manager, Flint Group; and Dawei You, product manager, Luster. 

The Digital Label and Package Printing Masterclass featured: an in-depth comparison of the different technologies; inkjet technology in digital label printing; pre-press systems, strategies and workflow automation; substrate selection; and digital print finishing. Speakers included: Sheldon Wang, account manager – China, HP; Zhigang Ding, supervisor of Label Division, Konica Minolta; Jimmy Zhan, China sales director, Domino; Danny Hu, regional director of China, Meteor Inkjet Ltd; Qiang Wu, software sales support, ESKO; Steve Deng, China sales manager, CERM; Calvin Xu, product solutions manager, Avery Dennison; and Ramon Li, general manager, Brotech. 

Eve Cai, marketing manager, HP Indigo Greater China, said: "Under the severe situation of Covid-19, it is not easy for Labelexpo South China 2020 to be held successfully as scheduled. We see the digitization process of the label industry has accelerated under the new normal and those ideals proposed by HP Indigo more than ten years ago, are slowly unfolding themselves. The very first Indigo 6K digital printing machine in China was signed up on-site. Thanks again to the organizer for building such a professional platform, connecting suppliers and printers, to drive the industry forward."

Yan Jianhai, general manager, Shanghai Haoxi Technology, added: "As the sister show of Labelexpo Asia, Labelexpo South China is the only show in the label industry after the epidemic, and has received undiminished enthusiasm from the industry professionals. Each and every visitor to our booth showed great interest in the Durst Tau 330 RSC digital label printing machine. This is the second public appearance since the Durst Tau RSC series first entered the Chinese market at Labelexpo Asia 2019 last year. The show has given us a valuable opportunity to deepen our communication with the label printers in South China. We expect to achieve more at Labelexpo Asia 2021!"

Neal Li, general manager, Surface Inspection Business Unit, Luster LightTech, said: "The three-day Labelexpo South China 2020 came to a successful conclusion, at which Luster demonstrated its LabelMan-F series label inspection system equipped with the new generation of PrintingPlus 6 software, and sent product experts to introduce the SmartFAB Smart Factory Management System to people who visited the Print Automation 4.0 Hub. Many thanks to Tarsus Group for providing this perfect platform and Luster will continue to be committed to playing its part in contributing to a digital, intelligent future of the label industry." 

Liu added: "Trade shows are vital for economic growth, so it's incredibly encouraging to see the region flourishing. Labelexpo South China is an important part of that jigsaw, and, crucially, will act as a vital catalyst for the recovery of the label and package printing industry in the region into 2021 and beyond."

Johnson Lin, marketing director, Antac Label Material, echoed this: "As the only label show of this year, Labelexpo South China held great appeal for the label industry and it will become a very popular label exhibition in South China. Let me say thanks to Tarsus, in this tough year, they held a very successful exhibition." 
 
Cai Jianping, CEO, Rhyguan, added: "Labelexpo South China 2020 has come to an end, but the world is still in the severe situation of the epidemic. The show has demonstrated the great resilience and vitality of the label industry in China, which, I believe, offers hope for the world to overcome the crisis."

To view photos from Labelexpo South China 2020, visit the show gallery.